Introducing Segment Analytics
NextStepHQ is a product that helps you run calls to action campaigns to various audiences to assist the buyer in their journey. To assist our users in building campaigns, we have built segment analytics which will help them keep track of their audiences. It is powered by the same segmentation rules that run our campaigns.
Here is a screenshot of a segment with its trend and its rules.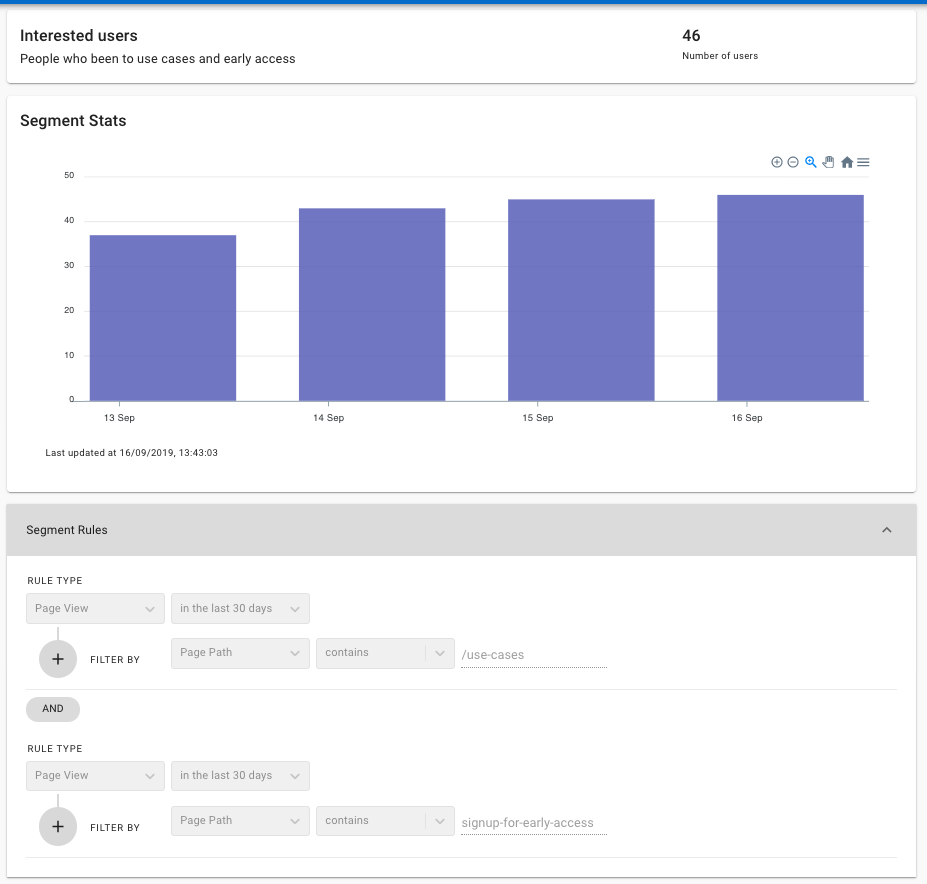 Here are some examples of segments you might be interested in tracking and then creating campaigns for:
Users who have been to your case studies more than 2 times, but have not been to the pricing page or signup page. Ideal campaign: A "Get started" campaign with your signup page as the link. You could also run a Book A Demo campaign powered by Calendly
Users who have been to your blog more than 4 times, but have not gone to a case study page or pricing page or signup pages. Ideal Campaign: Use the Bottom Bar CTA, with a great copy, like "Learn how company X, achieved 60% growth by using our Product" and take them to the case study page.
Users who have been to the pricing page 2 or more times in the last 1 day. These are users who have the intent of using the product, if you can give them a discount, do it with a CTA, right on the pricing page itself.
Using Segment Analytics for Conversion Tracking
Segment analytics can also be used to track overall conversions or specific paths to conversions. For example, let's assume you take every user who signed up to a page with the path "/welcome-to-acme". Thus:
You can track overall conversion per day by tracking all the users how have been to a page with "/welcome-to-acme" in the path in the last 1 day.
Want to track how your top organic post is helping in conversion? Track a segment where people who have been to "/welcome-to-acme" in the path in the last 1 day and have been to "/top-organic-post" in the last 14 days.
The Segment analytics feature will allow you to track users and their paths to conversions, which will help you in building campaigns suited for those paths thereby improving your conversion rate.